The History of the Jaguar
Posted by D Harrill on December 18, 2013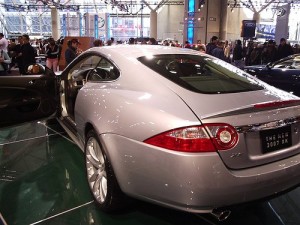 In 1922, the company that produces the highly respected vehicular machine known as Jaguar was just starting. Originally, they manufactured motorcycle side-cars only, and only later did they venture into the market for passenger cars. The original name for Jaguar was the Swallow Sidecar Company, and it was founded by Sir William Lyons. Because the name was often abbreviated as SS Company, after World War II the company officially re-branded themselves as Jaguar to exclude any acronyms that were associated with the unfavorable connotation with War-Time pains. This is their story.
The Early Years
In 1935, the name 'Jaguar' first appeared on a 2.5 litre Saloon sports models which included the SS 90, and the SS 100. These vehicles were the first that Jaguar produced by way of the passenger car. The company was started by two motorcycle enthusiasts who were attempting to make a name for themselves that included more than
In 1966, the company sold to the British Motor Corporation, which later became known as British Motor Holdings. In 1968, BMH merged with Leyland Motor Corporation and became British Leyland. They became nationalized in 1975.
Sports Car Success
Jaguar made a name for itself by selling a series of sports cars. These cars included the XK 120 of 1949, which then later developed into XK 140 and XK 150 as well as the E-Type of 1961. All of these were very successful and they perfectly embodied Lyons mantra "Value for Money. Jaguar's sales slogan for many years was "Grace, Space, Pace." This mantra was epitomized by the record sales of the MK series, and later the XJ6.
At that time, a company by the name of Pressed Steel Company Limited made all Jaguar's bodies, leaving the installation and design of the engine and its parts up to Jaguar.
Things weren't always smooth sailing for the young entrepreneur. Lyons drive for proper value for the money, and the current economic troubles of the time didn't fit well together. One startling development forced Lyon to sell his company to British Motor Holdings, although he broke out from them and experienced a brief period of independence after that.
Under New Management
After the installation of a new chairman, whose name was Sir. John Egan, the prices for Jaguars went up. This chairman tackled problems like poor quality control, lagging delivery schedules, and poor productivity. He laid off one third of the 10,000 employees they had for the sake of cutting costs, and raised the general prices of the Jaguars being sold. However, this price increase was masked by the relative success American's were experiencing on their side of the world.
Eventually, Jaguar became so successful that Ford offered to buy their shares in November of 1989. Under Ford's management, Jaguar expanded its product line and improved their vehicles year after year. Since then, Jaguar has been a hallmark of Class A vehicles that only Jaguar can produce, and only certified Jaguar Repair Specialists can repair.
(Photo courtesy of Mark B-Flickr.com)