Top Line Jag Repair 571-336-7701 Blog Archive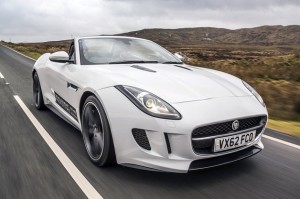 Before you vote on the best sounding engine of the year, you might want to take a minute to examine the 2014 Jaguar F-Type. Yeah we know what you're thinking, the last Jaguar sports model came out 50 years ago; what are you talking about? We're talking about one of the greatest cars to have ever come out, the amazing 2014 Jaguar F-Type V8 S.
Specifications
Weighing in at about 3,500 lbs., and possessing the prestigious ability of an incredible 495 Hp, this Jaguar is a true sports car in every sense of the word. That's right, folks, this isn't some 2 door with some power, this car was engineered with speed and agility in mind. The creators of Jaguar stated that this car was designed to be nimble and involving, and it really is just that. With an SC 5.0L V8 Engine, this powerhouse of mechanical brilliance makes mincemeat of the gravel as it travels over it. It features an 8-speed manual transmission that reviewers have raved about; speaking to it's ability to act and breath much like you would expect a manual transmission experience to be. It can identify what you want through advanced detection technology and push this powerful machine in just the way you intend to. In this ride, you sit 20 mm lower than you do in the XKR-S, which gives you the feeling that you're that much more a part of the vehicle as it tears up the pavement.
0-60 MPH in what?
Jaguar clocked in it's 0-60 time at 4.2 seconds, but the testing of other users have clocked it in to as low as 3.9 seconds; speaking to the designing genius and mechanical ingenuity of the makers of this beautiful machine. This one is for the daring and the confident.
Body and Interior:
The bodywork on this beautiful piece of mechanical elegance is extravagant and new.  It's made with a stark contrast from its predecessor in mind, and yet even with the differences, this vehicle still carries the marks of its traditional Jaguar design with pride. While retaining some of the more refined and older traits of past interior designs, the inside is a work of art in and of itself. Many times, chrome parts of the interior can prove to be annoying because of a glare, and in the Jaguar F-Type, there is very little chrome in the interior, retaining all of the marks of sophistication without any of the setbacks. This interior is designed around the needs and conveniences of the driver. There is a dynamic control operated by the touch-screen display that allows you to have completely control of the tuning of your engine, steering, transmission, and even suspension.
Our recommendation: don't drive this vehicle on a weak stomach. This car is a stark contender for the widely acclaimed Porsche 911, and we think it may exceed even the highest rated sports cars in its class. You shouldn't let just anyone do work on this one either. If you own one of these, seek out only professional Jaguar-exclusive repair options.